Red vs. Blue (2011)
Season 9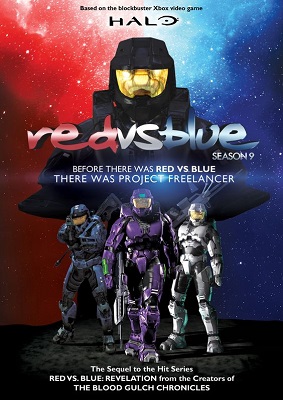 ---
Director:
Burnie Burns
Studio:
Rooster Teeth
Starring:
Gustavo Sorola, Matt Hullum, Geoff Ramsey
Episodes:
20
Synopsis:
While the Epsilon AI continues its search for Tex in a recreation of Blood Gulch, we get a view into the past during the heyday of Project Freelancer.
Impressions:
We have two separate stories here. One is Epsilon's faulty recreation of Blood Gulch, which hearkens back to the Blood Gulch Chronicles and the other is a flashback to Project Freelancer, which takes those sweet Monty Oum fight sequences from the previous season and applies them to a fully animated story. Admittedly, some of the modeling and animation (particularly when it isn't fight-oriented) is a bit rough, but this isn't Pixar we're talking about. For an independent studio, it's fairly impressive on the whole and the actual action scenes are positively stunning. I really like the Freelancer cast with its strained camaraderie. North, who was introduced post mortem in "Recovery One" is actually a really cool character and gels nicely with York. The Epsilon sequences almost seem like a distraction from the main event, but there's sufficient payoff in the end. This one is definitely worth owning unless you're just totally opposed to anything outside Blood Gulch-style antics.
Rating:
Own It
---