Re: Cutie Honey (2004)
[Re:キューティーハニー]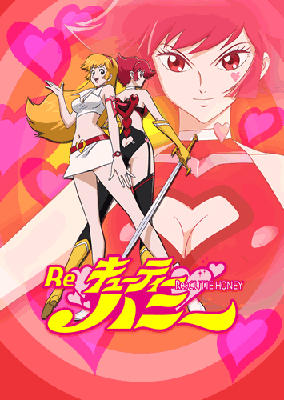 ---
Director:
Hideaki Anno
Studio:
Gainax, Toei Animation
Starring:
Yui Horie, Junko Noda, Hideo Ishikawa
Episodes:
3
Synopsis:
A Tokyo detective clashes with a transforming warrior android in the fight against the violent armed group Panther Claw.
Impressions:
For some reason the character of Cutey/Cutie Honey's managed to worm her way into my head even though I'd never really checked out any of the entries in the franchise until recently. I tried watching this series a few years ago, but the first ep came on a little too strong. However, I decided I wanted to see it through, so I gave it another whirl. I mean, I guess I'm the silly one for wanting to complain that they play the fanservice too hard in a Cutie Honey series, but the gratuity can get to be a little much for me. However, the core story and character dynamics hooked me and those can forgive many sins. I like Natchan being reimagined as a tough detective and Sister Jill being portrayed as a fairly tragic villain. While Hideaki Anno is the overall director of the series, each individual episode has a different director and with it a distinct feel in terms of tone and general aesthetic. For instance, the first episode is rather deranged with a lot of the touch Hiroyuki Imai of
Kill La Kill
fame brought to
Panty & Stocking with Garterbelt
. There are some rather good action set pieces, particularly in the final episode. If you don't mind the scads of fanservice (or, rather, if that happens to be a draw for you), it's worth checking out, but depending on your sensitivity, you may want to tread with caution.
Rating:
Watch It
---