The Brood (1979)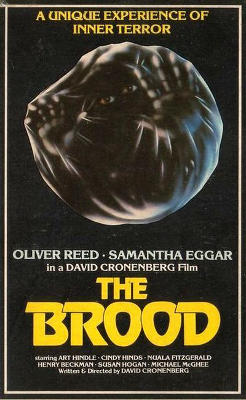 ---
Director:
David Cronenberg
Starring:
Oliver Reed, Samantha Eggar, Art Hindle
Synopsis:
A man seeks to win custody of his daughter from his wife undergoing a controversial psychotherapy program, but there is more to the program and his wife than what appears.
Impressions:
David Cronenberg had a nasty divorce and custody battle. He made a movie about his experience. I couldn't say how much it reflects reality, but it's an interesting sublimation of all that anguish. This being a Cronenberg film, I was expecting the body horror, but you don't get it right away. When it does come, though... Hoo... You don't forget this is a Cronenberg movie. I really liked Oliver Reed as the psychologist Dr. Raglan and Art Hindle isn't bad as the father, Frank. The effects are okay. This wasn't a very big budget film, but it does well enough to make it count. If you're a Cronenberg fan, I definitely recommend it. If mindscrews and grotesqueries aren't your thing, you may want to avoid it.
Rating:
Watch It
---