Little Shop of Horrors (1960)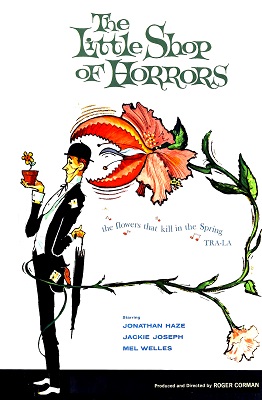 ---
Director:
Roger Corman
Starring:
Jonathan Haze, Jackie Joseph, Mel Welles
Synopsis:
A klutzy florist finds fame with a plant that has a taste for human flesh.
Impressions:
A lot of people are familiar with the remake of this, perhaps to the degree where the original is almost completely overshadowed. Now, the remake is really good, but there's actually a good bit of charm here as well. I particularly like Mel Welles as Mr. Mushnick and Jonathan Haze is pretty good as Seymour. It's interesting that the writer Charles B Griffith plays Audrey Jr. (originally a scratch voice, but of course the infamously parsimonious Roger Corman just ran with it), who does a fairly good job, but isn't nearly as colorful as Levi Stubbs in the remake. Jack Nicholson delivers an unexpected performance in an early role as the nerdy masochist Wilbur Force. (Much like Farrah Fawcett in
Logan's Run
or Tom Selleck in
Coma
, his role was much overstated in future marketing of the film.) It's a rather good film made on a tight Corman budget that's definitely worth watching.
Rating:
Watch It
---