Your Name (2016)
[君の名は。]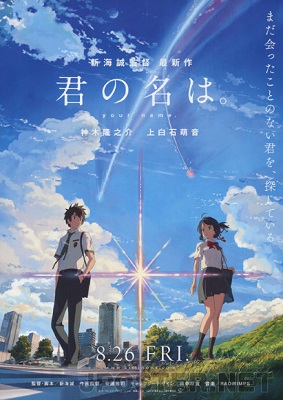 ---
Director:
Makoto Shinkai
Starring:
Ryunoksuke Kamiki, Mne Kamishiraishi, Ryo Narita
Synopsis:
A boy in Tokyo and a girl in Kansai discover that they can inhabit each other's bodies when they fall asleep.
Impressions:
I'd heard a lot of good word of mouth about this film, so I was glad to have the opportunity to see it on a flight back to Japan. The initial setup seems to be a fairly standard body swap comedy, though I do very much appreciate the fact that the seiyuu for Taki and Mitsuha actually portray each other's respective characters when a body swap has happened and do a great job of pulling off their idiosyncrasies. The story takes a significant shift in the second act and then another turn for the third. I think if it weren't for these developments, the movie would've been entertaining but not left much of a lasting impression. I find it interesting that the director rejects the fervency of the accolades he's received. I'll agree with him that the film is good but not perfect. I certainly enjoyed it and highly recommend giving it a watch.
Rating:
Watch It
---