One Punch Man (2012)
[ワンパンマン]
Volume 2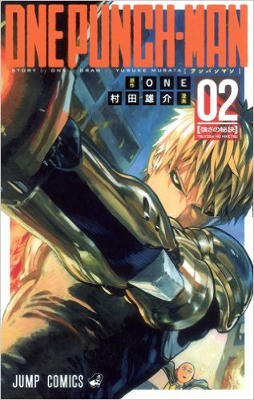 Author:
ONE
Artist:
Yusuke Murata
Publisher:
Jump Comics
Synopsis:
Saitama and Genos travel to the House of Evolution, the source of the monsters that attacked them.
Story/Characters:
We started the series with some one-shot villains and with the House of Evolution we get our first story arc, albeit a fairly short one. The fight with Ashura Kabuto highlights how the story effectively handles combat, letting other characters duke it out before directly involving Saitama. Both the reveal of the secret to Saitama's strength and the conclusion are quite amusing. We then have Saitama going out to defend his honor when all bald people are assumed to be members of Hammerheads gang of terroristic layabouts. This also brings us the introduction of Speed-o'-Sound Sonic who basically becomes Saitama's Team Rocket. We conclude with Genos explaining the Hero Association, which will be the gateway to all sorts of fun to come.
Art:
I love how this series can deliver amazing, hard-hitting action and great sight gags (often at the same time). Sonic's "innocent smile" is something that has to be seen to be believed. Though we saw some blood and gore in the first volume, here we actually have human victims, which might be a bit startling from an otherwise comedic series. It's not obscenely gruesome or anything, but seeing people's heads sliced and diced may come as a bit unexpected.
Other:
We get a little side story featuring Saitama during his training. Remember to brush your teeth, kids.
Conclusion:
This is a good followup to what was established in the first volume and leads us into main event. If you were hooked at first, you'll be wanting this in your collection too.
Rating:
Own It
---